Bienvenida
Estimados Colegas:

Debido a la gran incertidumbre en varios rubros en la vida de nuestro país derivado de la contingencia provocada por Covid-19, y con la escasa probabilidad de poder contar con un evento de la calidad académica tradicional de la SMI en este año, el Comité Organizador ha tomado la decisión de modificar la fecha del XXIV Congreso Nacional de Inmunología y X Reunión de SLAM-TB del 26 al 29 de abril del 2021 en Cintermex, ubicado en la ciudad de Monterrey, Nuevo León.

Así que las inscripciones y resúmenes que ya fueron enviados serán considerados para presentarse en estas fechas.

El programa de ambos eventos probablemente sufra modificaciones dependiendo de la agenda de los invitados. Los cambios ser irán agregando de manera gradual en la página del evento, http://eventos.uanl.mx/inmunologia/programa_preliminar.html

Agradecemos sinceramente la extraordinaria respuesta y la comprensión para esta situación extraordinaria por la que estamos atravesando.

Atentamente
Comité Organizador
XXIV Congreso Nacional de Inmunología
X Reunión SLAM-TB
---
On behalf of the Mexican Society of Immunology (SMI), and the Latin-American Society of Tuberculosis and other Mycobacteriosis (SLAM-TB), it is a pleasure to invite and welcome you to the XXIV Congress of SMI and X Meeting of the SLAM-TB in Monterrey, Nuevo Leon, Mexico.
SMI was founded in 1976 and at present, it is one of the most active and widely recognized scientific societies in Mexico and abroad. SMI has been well acknowledged by its programs on education, actualization, and training in experimental and clinical research in human and veterinary Immunology, as well as by the excellence and impact of its organized academical events. This Congress is the most important national conference in the basic, clinical and translational Immunology.
SLAMTB congregate a wide group of Latin-American microbiologists, molecular biologists, epidemiologists, immunologists and other researchers interested in the study of Mycobacterium tuberculosis and other related pathogens. SLAM-TB was founded in 2006 in Pucón Chile and its most important academical activity is this biannual Meeting, in which numerous and active researchers in this field from diverse countries present and discuss their recent results, also well-known excellent researchers dictate conferences on the most relevant topics about tuberculosis.
We believe that delegates to both Congresses will not only find an attractive academic program of remarkable science but also found many opportunities to connect with diverse researchers that are leaders in the different areas of immunology and mycobacteriology in a relaxed atmosphere. Both Scientific Program Committees have organized an outstanding
schedule of lectures, symposia, and workshops that will provide you with the fundamental knowledge and the most recent advances in mycobacteriology and immunity in health and disease. Additionally, you will find novel events around fellow scientists and young Latin American investigators, poster sessions and social activities.
Monterrey is the capital city of the Nuevo Leon state in the northeast of Mexico.
Monterrey is the third biggest city in the country, it was founded in 1596 and since then it has been considered a significant referent in Mexico´s history. At the beginning of the last century, many factories were settled in Monterrey and eventually became the most important industrial city of the country and now is considered the most innovative and prosperous city in Mexico. Thus, it has many museums and cultural places, as well as big commercial centers with splendid restaurants where you can enjoy the tasty Mexican food.
Please join SMI-SLAMTB in Monterrey, Mexico, from April 26th to 29th, 2020, and maximize your experience participating in the pre-Congress Courses on Clinical Immunology and Flow Cytometry on April 25th-26th.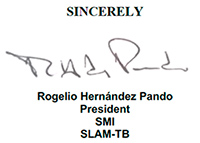 JLB Special Issue



Be a part of a Special JLB Dedicated Meeting Issue!

Leer más
Fechas importantes
26 al 29 de abril de 2021
XXIV Congreso Nacional de Inmunología
Becas XXIV Congreso Nacional Inmunología
Convocatoria Becas XXIV Congreso Inmunología
Acerca de
El XXIV Congreso Nacional de Inmunología se celebrará en la Ciudad de Monterrey, Nuevo León en CINTERMEX del día 26 al 29 de abril de 2021.
Publicación de Resúmenes
Todos los resúmenes aceptados en el XXIV Congreso Nacional de Inmunología (Monterrey 2020), serán publicados en la Revista Bio Ciencias (ISSN: 2007-3380) http://revistabiociencias.uan.mx. La cual es una revista mexicana de acceso abierto, catalogada en el Sistema de Clasificación de Revistas Mexicanas de Ciencia y Tecnología de CONACyT y en Web of Science (Emerging Source Index).
Premios
Convocatoria Trayectoria, con el apoyo de CTR
Convocatoria Joven Investigador, con el apoyo de BD
Convocatoria Tesis Doctoral, con el apoyo de CIPQUIM

Certificado de Asistencia
Se entregará todos los certificados de asistencia en el sitio web del congreso. Solo habrá certificados electrónicos disponibles, los organizadores no proporcionarán certificados en papel.
El sitio estará abierto desde el final del congreso hasta el 30 de junio de 2021.
X Meeting of the SLAM-TB