Home
Dear colleagues:

Due to the great uncertainty in various areas in the life of our country derived from the contingency caused by Covid-19, and with the low probability of having an event of the traditional academic quality of SLAM-TB this year, the Organizing Committee has decided to modify the dates of the XXIV National Congress of Immunology and X Meeting of SLAM-TB to April 26-29, 2021 in Cintermex, located in the city of Monterrey, Nuevo León.

Therefore, the registrations and summaries that have already been sent will be considered for presentation on these dates.

The program of both events is likely to change depending on the agenda of our guests. The changes will be added gradually on the event page, http://eventos.uanl.mx/inmunologia/programa_preliminar.html

We sincerely appreciate the extraordinary response and understanding of this unforeseen situation we are going through.

Sincerely
Organizing Committee
XXIV National Congress of Immunology
X SLAM-TB Meeting
---
SMI was founded in 1976 and at present, it is one of the most active and widely recognized scientific societies in Mexico and abroad. SMI has been well acknowledged by its programs on education, actualization, and training in experimental and clinical research in human and veterinary Immunology, as well as by the excellence and impact of its organized academical events. This Congress is the most important national conference in the basic, clinical and translational Immunology.
SLAMTB congregate a wide group of Latin-American microbiologists, molecular biologists, epidemiologists, immunologists and other researchers interested in the study of Mycobacterium tuberculosis and other related pathogens. SLAM-TB was founded in 2006 in Pucón Chile and its most important academical activity is this biannual Meeting, in which numerous and active researchers in this field from diverse countries present and discuss their recent results, also well-known excellent researchers dictate conferences on the most relevant topics about tuberculosis.
We believe that delegates to both Congresses will not only find an attractive academic program of remarkable science but also found many opportunities to connect with diverse researchers that are leaders in the different areas of immunology and mycobacteriology in a relaxed atmosphere. Both Scientific Program Committees have organized an outstanding
schedule of lectures, symposia, and workshops that will provide you with the fundamental knowledge and the most recent advances in mycobacteriology and immunity in health and disease. Additionally, you will find novel events around fellow scientists and young Latin American investigators, poster sessions and social activities.
Monterrey is the capital city of the Nuevo Leon state in the northeast of Mexico.
Monterrey is the third biggest city in the country, it was founded in 1596 and since then it has been considered a significant referent in Mexico´s history. At the beginning of the last century, many factories were settled in Monterrey and eventually became the most important industrial city of the country and now is considered the most innovative and prosperous city in Mexico. Thus, it has many museums and cultural places, as well as big commercial centers with splendid restaurants where you can enjoy the tasty Mexican food.
Please join SMI-SLAMTB in Monterrey, Mexico, from April 26th to 29th, 2020, and maximize your experience participating in the pre-Congress Courses on Clinical Immunology and Flow Cytometry on April 25th-26th.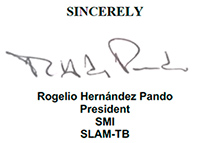 Dates
April 26-29, 2021
Venue
Cintermex, Monterrey, Mexico.
Topics
1. Genome, evolution and genetic diversity of Mycobacteria

2. Biology of the host

3. Transmission of Mycobacteria

4. Biology of the pathogen

5. Mycobacterial infections of veterinary relevance

6. Update on vaccination, diagnosis and treatment
Contact information
XXIV Congreso Nacional de Inmunología